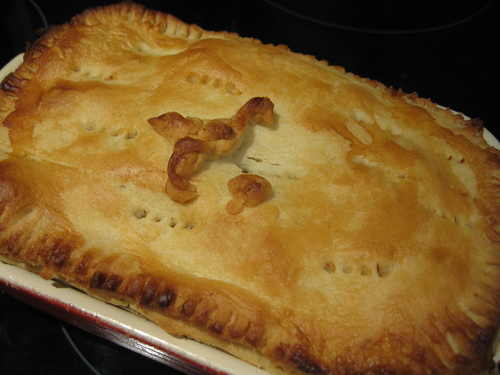 Group for lovers of the pie. There is no honour without pie.
A pie is a baked dish which is usually made of a pastry dough shell that covers or completely contains a filling of various sweet or savoury ingredients. Pies can be either "filled", where a dish is covered by pastry and the filling is placed on top of that, "top-crust," where the filling is placed in a dish and covered with a pastry/potato mash top before baking, or "two-crust," with the filling completely enclosed in the pastry shell. Pies can be a variety of sizes, ranging from bite-size to ones designed for multiple servings.
Recent discussions
RSS feed should capture all new topics.
Topic
Replies
Last Post
Topic title
by Screen name of topic starter
2
2 hours ago by Screen name
What's better, shortcrust or puff pastry?
by Robert
5
2 hours ago by Bob
Can pizza really be called a pie?
by Weebl
9
2 hours ago by Chas n' Dave
Rate my filling!!!!
by Clint
1
2 hours ago by Krusty
Best recipe for steak and kidney
by Weebl
50
2 hours ago by Bob

No discussions yet. Kick off the first topic.